Canal refurbishment
The Lutter gets a new bed
The Lutter is a stream 12.1 kilometers long in the urban area of the North Rhine-Westphalian city of Bielefeld. At the beginning of the 20th century, the stream was canalized and has since then owed underground at a depth of around 5 meters. After more than 100 years of service, the canal had begun to leak and needed refurbishing.
The overall concept, which was developed with the close cooperation of the environmental services department of the city of Bielefeld, makes allowance for water-related, structural, and urban technical requirements as well as taking into account the importance of the surrounding nature and the interests of residents and citizens. In the first section of the overall project, a rainwater reservoir, the bypasses and 800 meters of canal are being refurbished in an open construction method.
In order to secure the construction pit, which is 5 meters wide and 5.5 meters deep and located in the narrow historical city center of Bielefeld, Klaus Stewering Bauunternehmung GmbH & Co. KG, the contractor, selected the overlapping Linear Shoring system from Emunds+Staudinger, a proprietary brand of thyssenkrupp Infrastructure. Apart from its economic advantages, the shoring system features a great many technological strengths on-site – in terms of handling when installing and dismantling, but also due to its structural efficiency with regard to the closely constructed residential buildings and the relatively broad width of the construction pit.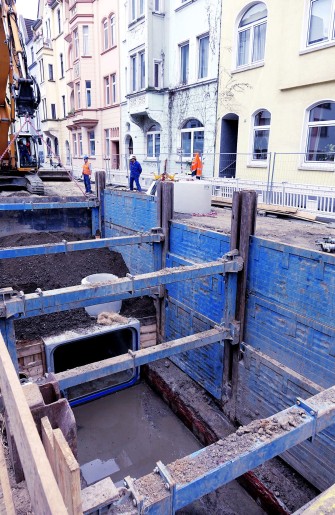 The shoring project on Salzdahlumer Straße had to be performed in a very limited space and without interrupting traffic.
Swiveled in from the side
In May 2015, Stewering Bauunternehmung began laying the first rectangular steel sections. The advantages of the selected shoring system already became apparent when positioning the first trench. After the first pair of soldiers had been adjusted, a second excavator swiveled the outer base panels into the 6.13-meter-long soldiers –not from above as required by other systems, but from the side, just above ground level.
That is a genuine advantage, particularly on sites where working space is very limited. As soon as the panels have been positioned parallel to each other and at a right angle to the boogie car, the second pair of soldiers can be easily slid into the ends of the panels from above.
When subsequently pressing the elements, the soil remaining under the panels and soldiers is separated and falls into the trench under the panels, creating a strong structural bond between the shoring and the soil. The rigid framework construction of the boogie car additionally ensures that the width of the pit does not change when the soldiers sink, avoiding subsidence.
Facts & figures
| | |
| --- | --- |
| Client | Environmental services department of the city of Bielefeld |
| Scope of supply | Overlapping Linear Shoring, consisting of linear shoring soldiers, inner and outer shoring panels, outer top panels, boogie car |
Facts & figures
| | |
| --- | --- |
| Client | Environmental services department of the city of Bielefeld |
| Scope of supply | Overlapping Linear Shoring, consisting of linear shoring soldiers, inner and outer shoring panels, outer top panels, boogie car |